11 Feb

The Dark, The Light & The Saison

After an online interlude last year, our much-loved spring beer festival is back this March!

We're looking forward to hosting The Dark, The Light & The Saison over three days beginning on Friday 4th March. We will have beer tastings, live music and great pub food across a range of indoor settings.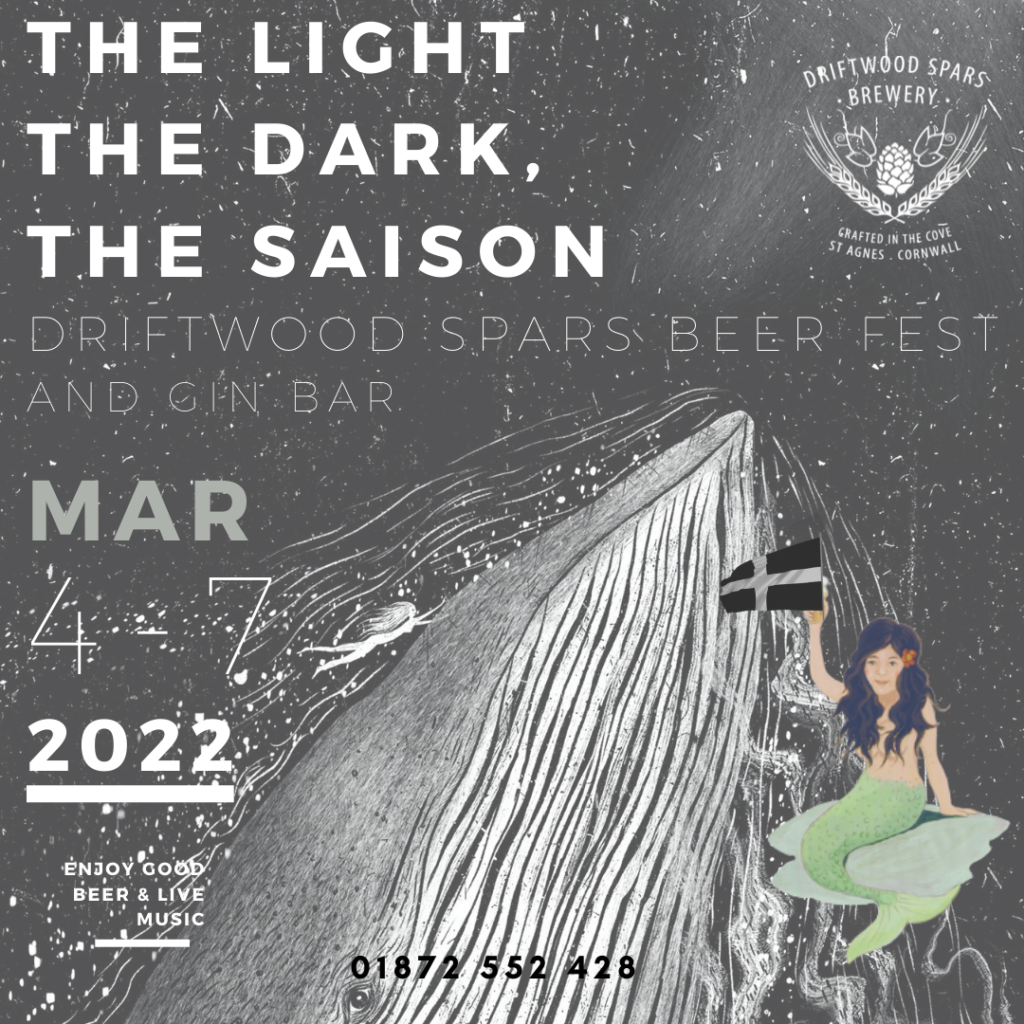 Here's an overview of the bands, gins and ciders you can expect over the weekend:
Live Music:
Stuns'ls Shanty Group on St. Piran's Day, Saturday 5th March from 8.30pm, ready to lead the Trelawney Shout at 9pm – song sheets will be provided.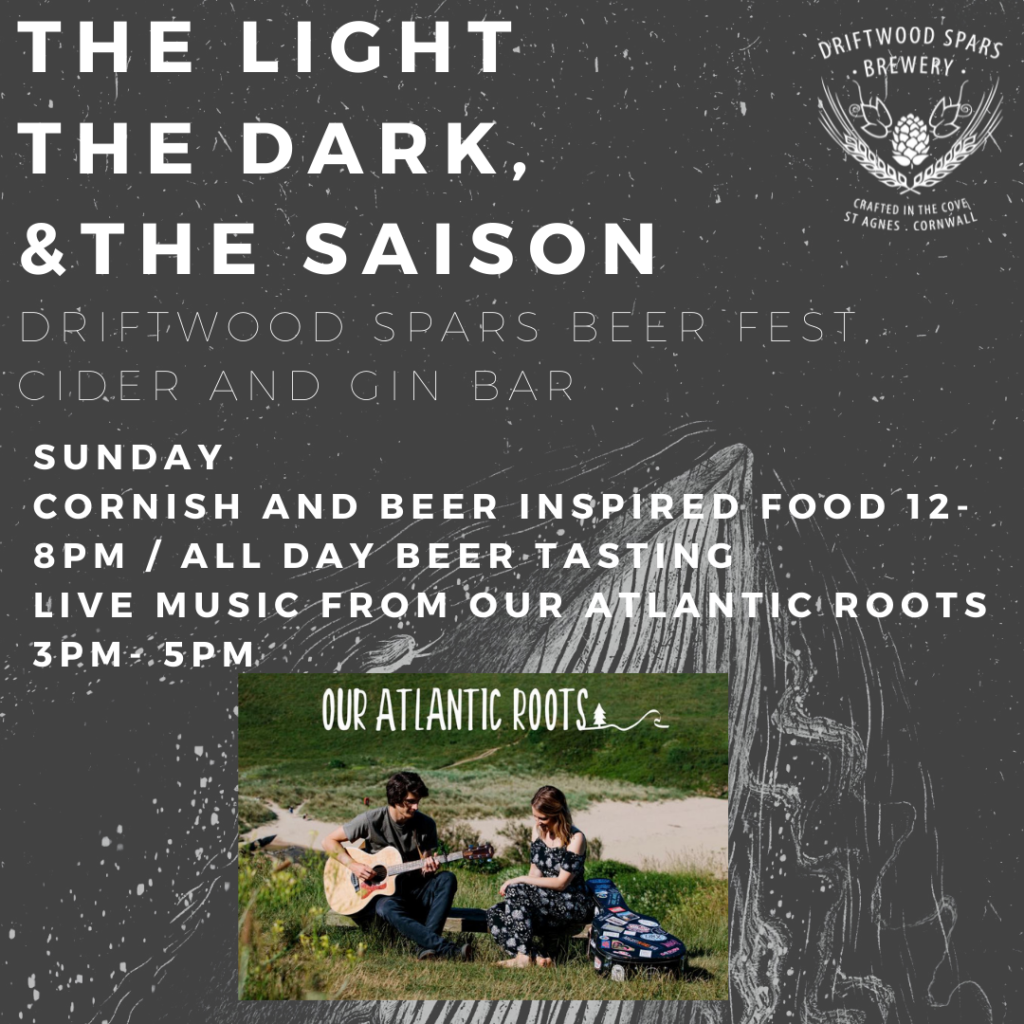 Ciders:
Bearded Brewers, Mango Cider 4%: camra gold award winner. Medium, sweet mango flavoured cider.
Healeys Cider, Flattler Still Cornish Cider 6%: Meet Healey's newest addition to the Rattler family! Flattler is your favourite cyder, without the fizz!
Snail Bank Cider: Herefordshire
Pig Squeal – Snail Bank Cider 7%: Our strongest cider is a rich bronze drink that is smooth and beautifully balanced with a satisfying rounded finish.
Peach Melba – Snail Bank Cider 4%: Juicy peach cider rippled with sharp raspberry.
Pineapple & Pink Grapefruit – Snail Bank cider 4%: The sweet tasty Pineapple is balanced out by the tangy Grapefruit. English cider with a tropical twist!
Gin:
Bearded Brewers, Carnanton Rose Gin:
London dry Orange & Rose Gin served with orange, recommended with a light tonic.
Wrecking Coast, Clotted Cream Gin 44%:
This gin is made with fresh Cornish clotted cream, cold distilled under vacuum and then combined with our own 12 botanical gin to give you a three dimensional flavour profile.
Avol Dor 42%:
Juniper, coriander, orris root in addition to fresh lemon balm, rosemary and bay leaves, picked from their Grandmother's garden, all play their part in producing this delicious gin. 
Rattler, Original Gin:
The folks over at Healeys Cornish Cyder have been busy whipping up this Cornish Dry Gin. Distilled twice and blended with seven botanicals including lemon, orange and mace.
Atlantic Distillery, Ring of Fire:
From Cornwall's certified organic Atlantic Distillery comes this fiery gin! Ring of Fire Garden Gin is named after the variety of chilli that is used to make it, and grown by the distillery.
Atlantic Distillery, Green Tea 43%:
Cold-smoked Green Tea is infused in Atlantic's Jynevra gin. This drink has the colour of a peaty malt whisky with sub-notes of orange and spiced honey.
Stafford's Gin 42%:
Alongside the traditional gin botanicals of coriander, liquorice, juniper and citrus, seven Cornish botancials are used to create the Stafford's London dry gin.
Cornish Blue Flamingo Gin 40% ABV:
Distilled in small batches, Cornish Blue Flamingo Gin contains an array of botanicals, some of which are rather unusual and hard to find – a bit like a mythical creature!
Tarquin's Black Cherry Gin:
This ultra-rare gin has been infused with fresh pressed black cherries and a touch of orange zest to create a delicious, zingy and very special sipping gin that delights the senses and transports you to the mountains and lakes of the black forest.
Tarquin's Yuzu and Lime Gin:
Tarquin's Latest Limited Edition Gin – distilled with exotic Japanese yuzus and fresh limes for a vibrant and zesty spirit that ignites the senses. Tarquin's Yuzu & Lime is an experimental gin pushing the boundaries of zesty refreshment!
We'll be releasing our list of beers for the event very soon. Stay tuned if you fancy finding out more about the drinks we'll have on offer. We will also have beer tasting happening across the entire weekend and our team are looking forward to chatting beverages with you all! 
Call us on 01872 552428 (option 1) if you have any questions about the event – we can't wait to see you there!