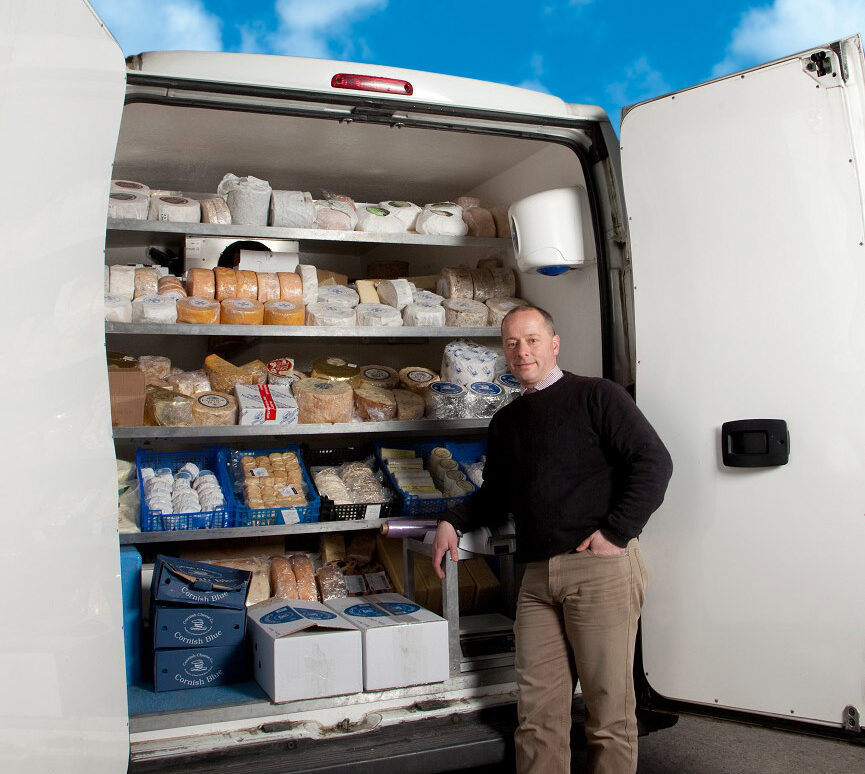 23 Sep

Why we love… Thomas Hanson, 'The Cheeseman'!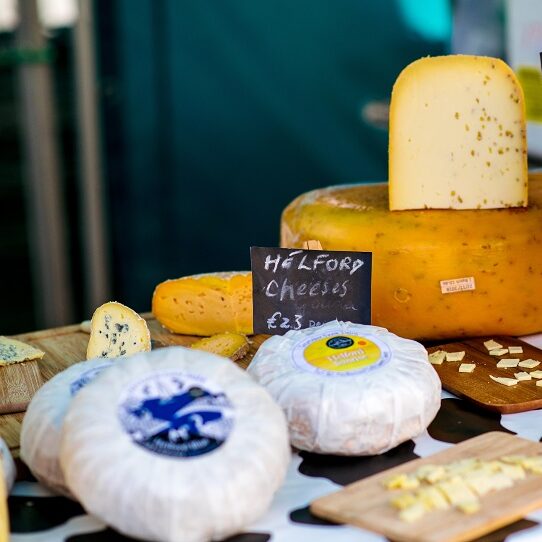 Cornwall food industry insiders will know that there's only one place to get your hands on all the best local cheeses, and that's Thomas Hanson's famous cheese van! Each week we rub our hands together in glee when the cheese-mobile arrives, knowing that inside is an array of delicious Cornish cheese in prime condition.
We've been working with Thomas for around 10 years, and so we're happy to put ourselves in his capable hands when it comes to choosing the best cheeses. Thomas is both the buyer and seller of artisan cheeses, as well as the delivery driver, so he has a complete overview of the process from production right through to your cheeseboard here at the pub.
Therefore Thomas is a handy link between our kitchen and the grassroots Cornish producers making award-winning cheeses like Yarg, Gouda, Brie and Smuggler. He talks to these producers on a weekly basis, visiting their farms and cheese rooms regularly. He has a deep understanding of how all Cornish cheese are made, their unique flavour profiles and how best to enjoy them!
We like to support Cornish makers whenever possible and, given the quality and diversity of cheese made in Cornwall we rarely need to stray beyond the Duchy. Thomas always has a revolving selection covering all the different types of cheese, and is a font of knowledge when it comes to trying new things and suggesting alternatives.
Naturally, 'The Cheeseman' is a big advocate of Cornish cheeses, saying:
"I think the great quality of Cornish cheese is down to the superb farming land and fresh sea air – all good cheese starts with good grass after all! The second special thing about Cornish cheese is the sheer variety, and that comes down to the knowledge and inventiveness of local producers, and their passion and resilience when it comes to trying something new."
As well as our regular selection of cheeses for cheeseboards, ploughmans, burgers and other day-to-day dishes, we are regularly asked by wedding guests for 'cheese cakes' – stacks of local cheeses – which make a great wedding day finale and are the perfect thing for guests to snack on as they enjoy the evening shenanigans. Thomas is always happy to help us source cheese for these beautiful cheese cakes, which can look stunning as well as taste delicious.